Sunshine Coast Extreme Flying Adventures
When you visit a beautiful location such as the Sunshine Coast, sometime the best way to see it is from the air. A flying experience will let you get up above the ground and see the area in all it's glory - from golden beaches in tucked-away covers, to the fascinating hinterland and Glass House Mountains with their volcanic peaks. As well as scenic flights, we can also recommend a range of other experiences that involve flying through the air, from freefalling from 14,000 feet or just above the ground on a flying trapeze, we've got it covered. Touch the sky with an airborne experience. We just have so many ways to get high, from a Top Gun experience to a romantic Seaplane picnic or flying through the air on a circus trapeze. Put your head in the clouds with an exceptional high flying experience.
Skydiving & Paragliding Adventures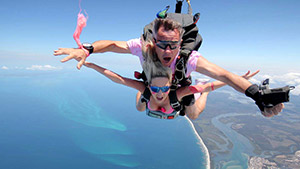 ump from Australia's highest altitude - 15,000 feet - with a day time Sunshine Coast skydiving experience above the beautiful beaches of Caloundra on this most-ultimate of adrenaline pumping experiences! Join your friendly, supportive skydiving team for an essential bucket-list day out, get a full safety briefing and then board the aircraft and head up, up and away into the skies above the Sunshine Coast in preparation for up to 70 seconds of heart-stopping freefall before the cord is pulled and the canopy unfurls.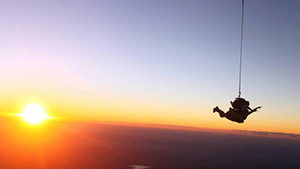 It's surreal, it's thrilling and it's unforgettable - this Sunshine Coast sunset tandem skydiving experience offers a whole new take on a skydive adventure! You'll be surprised how different skydiving is when done under the cover of darkness - it both deprives and enhances your senses to a whole other level as you prepare to launch from 15,000 feet above the twinkling lights of the Sunshine Coast below.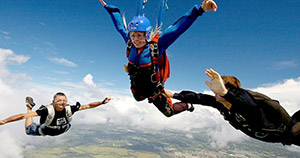 So you want to jump from a perfectly good aeroplane... Tandem Skydiving is not easy to describe and even harder to forget! It is a positively thrilling experience that is awesome fun, giving you spectacular views of the Sunshine Coast.
Scenic Flying Adventures

Experience the beautiful Sunshine Coast from a whole new perspective with a 30 or 60 minute adventure flight! In this fantastic flight tour you'll witness the sheer beauty of the Sunshine Coast, including Noosa Heads and Maroochydore from a mesmerisingaerial perspective. From a birds eye view you'll fall in love with the many gorgeous sandy beaches and vivid blue waters of the Sunshine Coast below you, alongside the stunning hinterland if you look further inland.

View the golden sands and vibrant waters of the Sunshine Coast from above with a scenic seaplane flight. Get a vantage point that few travellers get to see! Choose between a 10, 20 or a 30 minute scenic flight showcasing the best of the Sunshine Coast, including the Maroochy River, Mooloolaba, Caloundra and National Parks from above.
More Sunshine Coast Adventures
Want to get in on more of the action? Check out more of our adventures